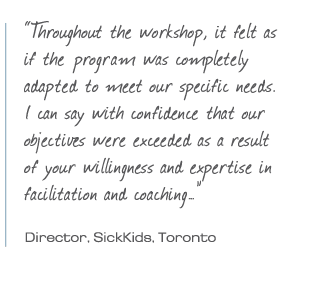 Coaching is a leadership competency with great leverage to develop others, increase engagement and a sense of ownership, and generate results. Our Coach Training program focuses on providing your team with a model, skills and competencies to coach others toward powerful and sustainable results. Working with the model your group will learn to create the foundation for effective coaching, while developing and practicing the actual process of coaching others. Managers can expect to leave the course ready to coach in the work environment.
Participants in the program can expect to:
Explore and develop fundamental coaching skills, behaviours and competencies using the coaching model
Learn to design effective relationship alliances and agreements with others
Develop an inquiry based approach to help others create new insights and learning, commit to action, and create accountability
Learn to effectively use different levels of listening and awareness to deepen relationships
Use acknowledgment and feedback as part of the coaching process
Our Approach:
Participants engage in discussions, debriefs and interactive exercises to deepen and integrate the learning. A coaching model is revealed throughout the program and the skills and competencies are practiced in groups. Working in small groups provides an opportunity to practice the new skills and behaviours and to build on them throughout the course. We work with real situations and challenges that emerge from the participants themselves, make the learning relevant and compelling. And we leverage the experiences and insights of the group to enhance the learning.