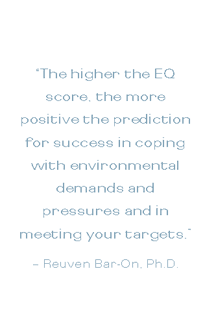 Emotional Intelligence refers to an individual's level of emotional and social functioning. Research shows that a person's EQ directly impacts their job performance and it is not permanently fixed. The skills can be improved at every age, and the greater your skills, the greater your chances for success.


BarOnEmotional Quotient Inventory (EQ-i®)
The EQ-i is the first scientifically developed and validated measure of emotional intelligence. It measures 15 key areas of emotional skill such as conflict resolution, interpersonal relations and stress tolerance. Clients can then work on identified development areas and leverage key strengths to maximize effectiveness. Individuals complete an assessment on-line and receive a comprehensive report.


BarOn Emotional Quotient-360 (EQ-360™)
The EQ-360 assesses emotional and social intelligence from a multi-rater perspective. Selected individuals (i.e. your boss, employees, co-workers, clients, etc) complete the EQ360, in addition to the individual of focus. The result is a comprehensive 360-degree profile in which external impressions of a person's EQ are combined with that person's self-rating. The results are reviewed with you on an individual basis or through a team or group workshop.
EQ Workshops
This is your opportunity to develop your self-awareness and learn to master your EQ competencies, through an engaging and interactive program that will impact performance. Professionals at all levels can benefit from this opportunity, using either the EQ-i or the EQ-360.
In the workshop you can expect to discover what emotional intelligence is and why it matters, debrief your assessment feedback, and increase your ability in the core emotional intelligence skills through exercises with the group. You will set personal goals and develop strategies to achieve them.