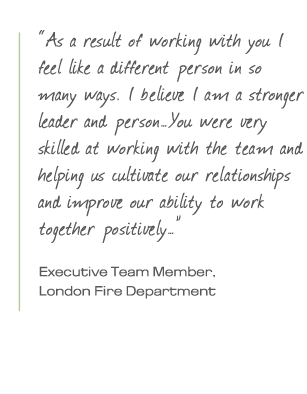 Learning to maximize the power of teams is a critical skill for successful organizations. We work with teams to increase their awareness, skill and ability to produce powerful and sustainable results. Our approach is to focus on the team as a system, and the interrelationships among the team members. The impact is both individual growth of the team members as well as growth for the team as a whole system.

We work with teams to:
• Identify and create insights to the team's current state and dynamics
• Create team agreements
• Cultivate an environment of trust, courage, positive interaction and collaboration
• Create compelling visions and outcomes
• Identify areas of opportunity, action, and collective commitment
• Identify destructive communication styles and new effective approaches
• Explore roles filled by members of the team and their impact on performance
• Resolve conflicts and learn to create productive conflict and alignment
• Re-energize your team, raise the bar and celebrate successes

Our team coaching process is tailored to meet specific needs, and we generally recommend the following process:

| | | |
| --- | --- | --- |
| | | |
| We review the needs and verify the objectives of the process through a Discovery Session. It sets the foundation for the program. | A Team Diagnostic Assessment is completed on-line for the team as a whole and a comprehensive report is generated. | A Foundation Session is held with all team members where we explore the team dynamics and current state, create a road map to guide the on-going coaching, and design an alliance on how we will work together effectively. |



Team Workshops & Coaching will support the creation of new insights, skills and distinctions on how your team performs, and leverage opportunities for development. A road map is created to guide team coaching and on-going development.



A Follow-up Assessment may be done by re-administering the Team Diagnostic after a period of time and comparing the results to the original baseline.