Coaching is a powerful relationship designed to deepen your awareness, explore your natural leadership abilities and learn more about the impact you have on others. Through our coaching process you explore what's working and what you would like to be better, so you can create a dynamic plan to generate the results you want. An environment is created where you deepen your awareness and insights, clarify goals that matter, and choose powerful actions and outcomes.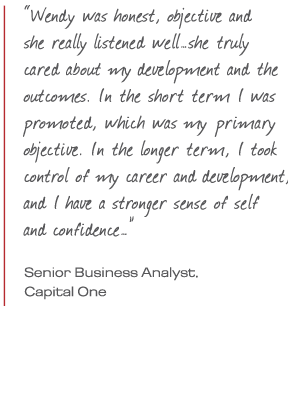 The specific outcomes of coaching vary depending on individual objectives, and they typically include:
•   Deepen your self-awareness of your leadership strengths and challenges
•   Learn more about your impact and relationships with others
•   Accelerate your leadership development
•   Generate performance results that matter
•   Explore your fulfillment, balance and engagement
•   Create a vision that really matters, and goals and strategies to get there
•   Leverage your strengths as a leader to create your desired impact
•   Explore existing perspectives, beliefs and choices that impact your effectiveness
•   Explore the challenges you face that will make a difference in your performance

The coaching is confidential and customized for each client. We have many tools and we tailor the approach depending on your specific needs, preferences and focus. The coaching is done by phone or in-person.
| | | |
| --- | --- | --- |
| | | |
| An Introductory Meeting allows the coach and client to ensure they are a good match and discuss the coaching needs and process. | In the Foundation Session we explore where you are now and where you want to go, including your personal and organizational objectives. We define the primary areas of focus for the coaching and design how we want to work together. | Assessments may be integrated into the coaching process to deepen your self-awareness and your leadership competencies. They may include both personal and 360 assessments. |
On-going Coaching meetings will support your desired growth and outcomes, accelerate movement toward the goals, and reinforce learning and change.
Supportive email contact is also available throughout the process.

In a final Completion meeting, we
complete the coaching process, including review, feedback and future action plans.