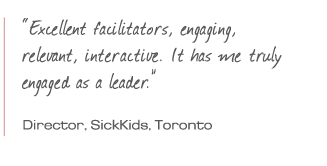 This program addresses the need for continuous leadership development, a process which can be deepened and accelerated in a supportive learning environment with peers, powerful coaching and feedback. Through our leadership program individual leaders will deepen their awareness, and build upon their natural strengths as a leader. The focus is on skills, competencies and behaviours that support authentic leadership, creating powerful relationships with others and having a desired impact.
Our program addresses three levels of leadership:
Personal leadership
Participants explore what makes them compelling as a leader, their values and growth areas. They also look at key skills such as levels of listening, awareness and feedback.
Leading with Others
Participants explore interpersonal skills, connection and conditions for effective collaboration. They also look at their relationship agility, the impact they have on others and how to create leadership in others.
Leading & Empowering Teams
Participants learn how to motivate and create results through effective teams. They learn to create conditions for team engagement and commitment, identify and overcome team dysfunctions, and create high performance environments.
Our Approach
The group is a 'community of practice' that supports each other's learning and growth. The participants leverage the experiences and insights of the group and in this manner learn even more about their own personal leadership. The workshops are experiential and interactive. Each session contains new content, exercises and discussion to deepen the learning. Participants continue the learning in their work environment through assignments. New content is layered in over time, which supports sustainable development.