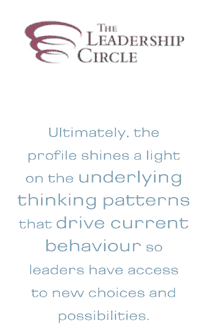 The Leadership Circle Profile, developed by The Leadership Circle™, is a breakthrough in 360 degree profiles. It addresses the need for leaders to grow – to significantly upgrade their 'inner operating system' to be able to embody the kind of leadership that can create the envisioned organizational culture. This is a process of transformation where leaders are encouraged to make a profound shift – to gain a deeper understanding of themselves, their relationship to others and to the organization. This is above and beyond mere skill development. It is leadership development that requires higher levels of consciousness to successfully create change.
The profile is the first to connect patterns of action with the underlying habits of thought. It reveals the internal assumptions and beliefs that run behaviours and how that translates into productive or unproductive styles of leadership. This profile is the only instrument that measures the two primary leadership domains – Creative Competencies and Reactive Competencies – and integrates this information so that key opportunities for development immediately rise to the surface.
Creative Competencies measure how you achieve results, bring out the best in others, lead with vision, enhance your own development, act with integrity and courage, and improve organizational systems. Reactive Tendencies are leadership styles emphasizing caution over creating results, self-protection over productive engagement, and aggression over building alignment. These self-limiting styles over emphasize the focus on gaining the approval of others, protecting yourself, and getting results through high control tactics.
The information is rich, thorough and well-organized to reveal patterns and interactions among all the dimensions. The leader can quickly see the whole story and gain insights into his/her creative strengths, the competencies that need development, and the issues that are giving rise to patterns of competency over/under utilization. The profile is administered via the internet where the participants fill out the profile on themselves and request feedback from others. The process can be done individually or with a team or group.